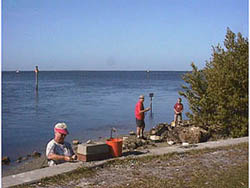 Ponce de Leon Park is a treat by itself. Besides the fishermen and the boat traffic, there is a nature walk that goes over the mangroves. Also, in the park, is the Peace River Wildlife Center where the local vets and volunteers take care of injured birds and animals.
But it doesn't end there. A few years ago we started a sidewalk system that allows you to walk from one end of town to the other. Starting at Ponce de Leon park, it is a 2.5 mile walk to the new park on Aqui Esta.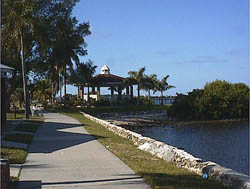 The Aqui Esta Nature Park offers nature trails where you can view a variety of Florida wildlife in their natural habitat.
From Aqui Esta Nature Park, it is a little over 2 miles to Gilchrist Park which runs along the Peace River. Tennis courts and playgrounds are scattered throughout the park, which is almost a half mile long. There is also a covered picnic area that sits at the water's edge.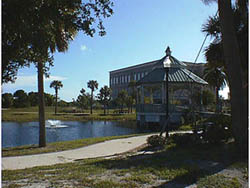 The final stop after Gilchrist Park is Laishley Park. That is, unless you are really into a good workout and decide to walk the bridges over the Peace River. The bridges are a real treat to walk. They measure more than one mile and offer stunning views of the Peace River, Punta Gorda's historic downtown and Fishermen's Village. Also, it's not rare that you will catch a school of dolphins and you can watch them jump and play below you.