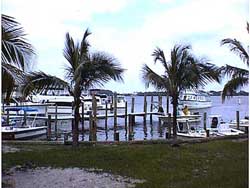 All who find Cabbage Key believe it's their own secret discovery. Cabbage Key's 100 acre island is located by Intracoastal channel marker 60. It's about 20 water miles from Punta Gorda, beween Useppa Island and Cayo Costa. At different times of the year tour boats take visitors for lunch. It is accessible by private boats at any time. Many boaters stay for dinner and spend the night on their boats or in one of the rooms for rent. Some evenings are very lively, depending on who was traveling down the intracoastal waterway that day.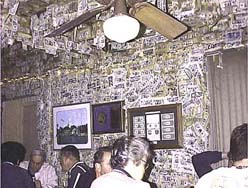 From the 1930's to the 1960's, Cabbage Key was a private retreat for newspaper reporter and novelist Mary Roberts Rinehart. The main house – a low, rambling, white clapboard built on an old Calusa Indian shell mound – holds the restaurant, bar, sitting porch and six bedrooms. Six two-bedroom cottages are in the nearby woods.
One item on the menu was supposedly inspired by the Jimmy Buffett song "Cheeseburgers in Paradise." The restaurant/bar is wonderfully dowdy. There, thousands of dollar bills, autographed by guests, cover the walls. Just ask for a pen and tape and you can add yours!