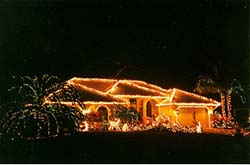 This is really a "Night Trip" page. I'm always amazed when people think we don't celebrate Christmas because the weather is warm. Near the end of November you will see people, sometimes a great party, decorating boats behind there homes. Then the fun begins!
There are cruise boats, if you're interested, even flights from the airport viewing the spectacle from the air. Decorated boats cruise through the canals enjoying all the lights on the boats, homes and seawalls. A drive through the Isles gives a great view of the homes and canals. If you are here in December, be sure to come see the lights at night.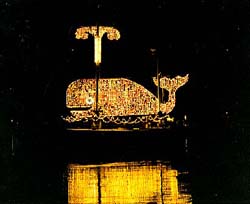 The "grand event" is the lighted boat parade which usually takes place early in December. Approximately 50 decorated boats come across the Harbor, cruise through the Isles and downtown Punta Gorda. Thousands of people come out to see the event.
Included on this page are just a few of our favorite pictures from past boat parades.